Colloid-A-Tron Description
Download Specifications Sheet PDF
Specially designed for heavy industry and cooling towers.

The Colloid-A-Tron is a unique lime-scale prevention system which consists of a non-sacrificial lead free catalytic core made from a special alloy housed within a non-reactive stainless steel (316) tube. Colloid-A-Tron provides the ideal solution to the problems associated with hard water scaling
Industrial / Commercial Applications
Humidifiers
Compressors
Condensers
Air Conditioning
Air Washers, Scrubbers
Cooling Rods Felt Washing
Boilers, Low Pressure Calorifiers
Injection Molding Machines
Sea Water cooling circuits
Ice Makers
Extruders
Friction Brakes
Grinders and Mixers
injection molding machines
Presses
Heat exchanger
Hot Water Heaters
Cooling Tower
Vacuum Pumps
sea water cooling circuits
The system how does it work…?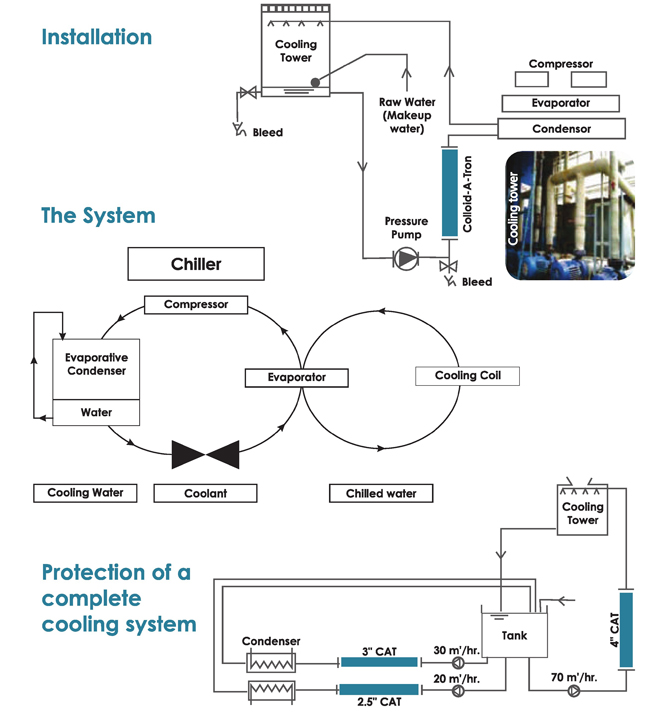 Colloid-A-Tron (CAT) units are installed in 40 countries on 5 continents. Many leading companies have used CAT treatment in countries across the world such as Ford, Bush Beans, Guinness, ICI, Nestle, Carlsberg, Renault and Coca-Cola. Since 1973 hundreds of thousands of customers have benefitted from the installation of the Colloid-A-Tron.
Colloid-A-Tron Technology

Colloid-A-Tron consists of a pipe with a special alloy core inserted inside. The unit comes in different sizes, threaded or flanged as required. In order to prevent scale from forming in a system or a specific piece of equipment a Colloid-A-Tron is installed replacing a section of feed pipe.
The Colloid-A-Tron operates as a catalyst using the pH rise generated by the alloy to trigger precipitation of calcium carbonate in the bulk of the water forming stable crystals. The result is a water that has less calcium and carbon available in solution. That solution has the characteristics of a softer water and therefore does not deposit scale as it passes through the system.
The problem
The formation of scale caused by hard water in pipework and equipment is costly and seriously reduces operating effectiveness. Scaling and its removal manually or by chemicals can cause damage to equipment. Generally the application of chemicals has been the traditional method of handling these problems – however increasing environmental pressures and restrictions are causing responsible industries and plant operators to look for alternative methods. The Fluid Dynamics method of preventing hard water scale is tested and approved by many leading universities and institutions around the world.

The answer
Colloid-A-Tron provides the ideal solution to the problems associated with hard water scaling;
Totally safe for the environment
Constant supply of treated water
Requires no shutdowns for maintenance
Uses no energy or electricity
Product life expectancy 15 – 25 years
Ten year part replacement warranty*
Fluid Dynamics is the world leader in non-chemical water treatment systems.
*Warranty is pro rata refurbishment/replacement for materials failure or defect